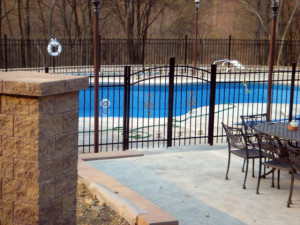 Pool fence installation is a necessity if you want to protect yourself from an insurance liability and your family and neighbors from an unfortunate accident which can lead to injury or death. Where there were once limits to the design and materials available for your pool fence installation, today's pool fence options are quite extensive, giving homeowners more choices so they can find a fence style that compliments their current home and property.
Although you may want to focus first on beauty and design, it is important to first decide which fence will provide the highest level of safety and security for your pool. Above all, the safety of your family should be the most important factor in determining your pool fence options.
Ketcham Fence has been installing pool fence in Orange County NY and all surrounding areas for over 40 years. Our experienced staff will thoroughly examine your existing location and/or pool installation plans and discuss your safety needs with you so that you can find a fence that not only looks great, but insures that your property remains safe for your family, friends, and all who visit.
Pool fence comes in all material types including wood fence, vinyl Fence, wrought iron fence and even chainlink fence. A variety of colors and styles are available within each pool fence type so that you can easily match your existing home's palette and design. With so many styles to choose from you are sure to find one that you love.
Another important component of any pool fence installation is the safety gate. Pool safety gates help to further secure your enclosed area and can prevent young children and unauthorized individuals from accessing your pool area. Many pool gates are self-closing and offer locks to further secure the area.
If you are in the market for a new or updated pool fence for your commercial or residential property, contact Ketcham Fence and let us provide you with a free quote. We will take the time to understand your particular safety needs and help you find a fence which you will love for many years to come.